Let's make you an Audacity guru
come along and make something amazing!
Audacity and Me
Since its initial release, I've used Audacity to create audio for projects small and large, for clients ranging from instructional videos to radio commercials to materials for the US Air Force and The White House, to dozens of audiobooks.
Over that time, I've used most of the popular audio editing tools and Digital Audio Workstations (DAWs) that have come along (and in some cases, gone away). And I continue to use Audacity. That's because…
I WANT YOU!
To gain confidence
To know your tools
To have confidence
To enjoy your audio work
To build confidence–continually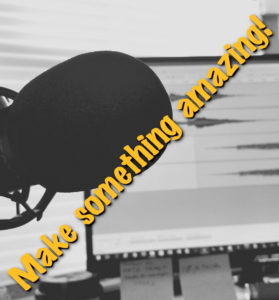 Your Path to Being an Audacity Guru
Stuart's Audacity Tips: a free newsletter that brings tips for using Audacity straight to your inbox.
My Foundation Course, which includes ten videos that go in-depth into the audio editing tools in Audacity (and includes some tips and tricks along the way), is a great starting point.
[Coming Soon] Our ongoing Audacity Guru membership includes more videos, downloadables, and access to our community–including personal support. Everything is accessible as long as you are subscribed.
While it's impossible to promise specific professional results that will accrue to you as an Audacity guru, let me assure you that I get no greater joy than seeing a student succeed. Audacity Guru is the result of one of my mentors encouraging me to share my experience. My goal is to see you make something amazing!
If you need to work with audio, I want to help. Are you ready?
©2020-2021 Stuart Gauffi, All Rights Reserved.
Audacity Guru is not affiliated with Muse Group or the Audacity development project.
Privacy Policy